New remote case alert! Our pre-order sale has ended.
SKU: KPCOMPUST13 v1

SKU: KPCOMPUSR5 v1
KeyProtek custom-molded silicone case offers a simple, stylish, solution to protect your Compustar remote starter alarm. 
Simply slide the cover over your existing remote. No tools required!
Ships internationally.
The silicone adds extra grip and feels great in the hand. You'll retain full access to all buttons on your remote.

Highlights
✔️ Protect your remote from drops and wear n tear damage
✔️ Easily slide this case over your remote
✔️ Durable and easy to clean with water.
Compatibility
Fits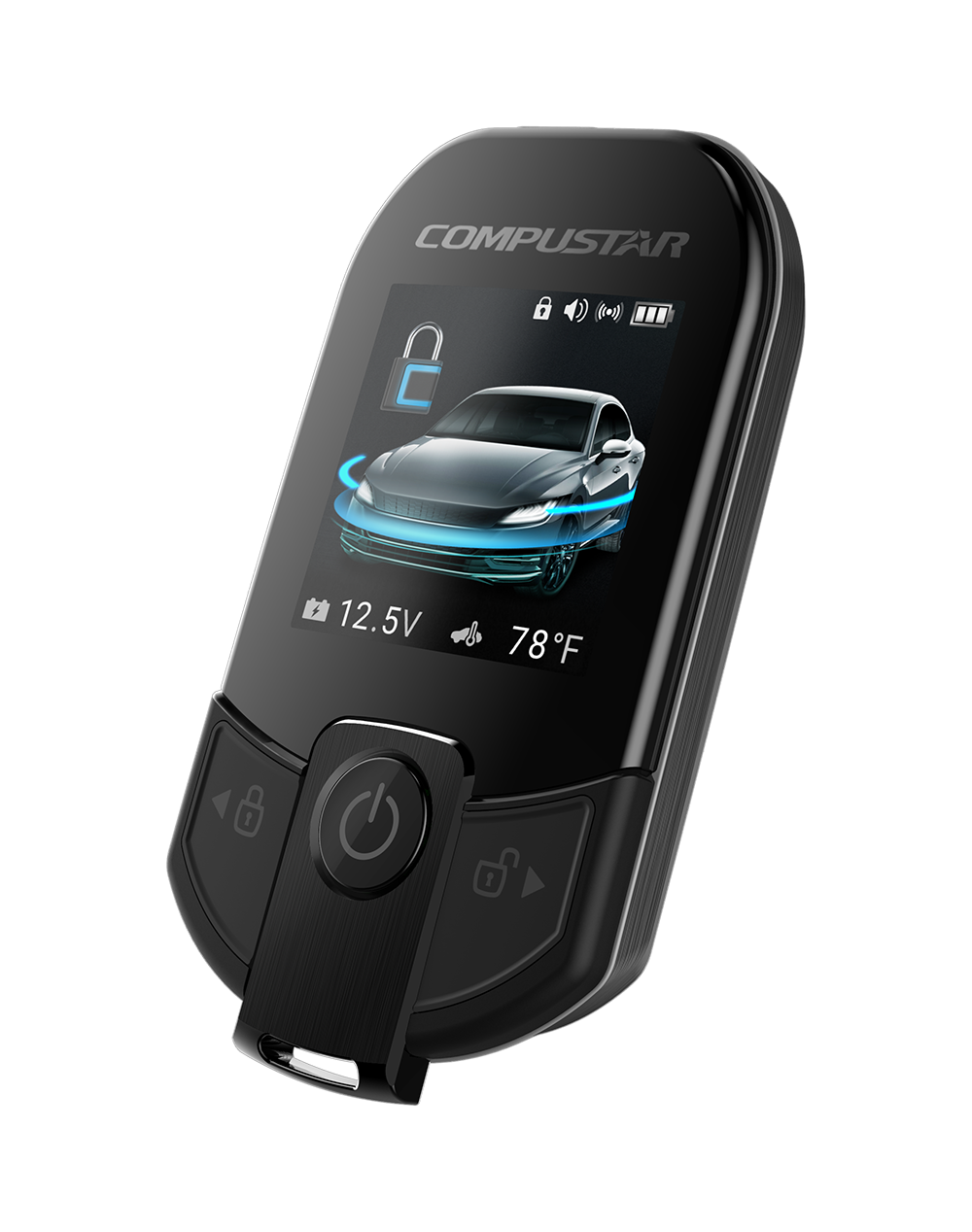 More on the T13 & R5 Remotes
"Firstech is announcing the addition of two new remote kits to its Compustar PRO Series line of remote car starters: the PRO T13 (RFX-P2WT13-SF) and PRO R5 (RF- P2WR5-SF). Both remote kits include 2-way, USB rechargeable remotes with super-long range and proximity unlocking capabilities.
The Compustar PRO T13 will be Firstech's flagship model heading into the 2020 remote start and holiday seasons. The PRO T13 remote will be capable of up to 3 miles of 2-way range for remote start, security, and keyless entry commands. All remote commands are confirmed on the remote's vibrant, color LCD. The PRO T13 also features a water-resistant case design and USB charging port. On a full charge, the maximum battery life is 45 days.
For convenient vehicle access, the Compustar PRO T13 and R5 remote kits will offer new proximity-unlocking capabilities. This feature, which is built into the RF antenna, automatically unlocks and disarms the vehicle when the remote is within 3-6 feet. Proximity unlocking makes getting into the vehicle easier for users carrying shopping bags or equipment into their cars. Through features like proximity-unlocking, Compustar offers new OEM-technologies to customers who do not necessarily want to purchase a brand new vehicle.
Joining the PRO T13 in the Compustar PRO Series lineup will be the PRO R5. The R5 remote is a compact, one- button solution that uses LEDs to provide 2-way remote start and keyless entry confirmation. Two special characteristics of the PRO R5 is that it will be USB rechargeable and capable of receiving 2-way alarm alerts.
"We couldn't be more thrilled to release the next-generation of Compustar remotes in time for the 2020/21 remote start season," shares Jason Kaminski, Firstech's Managing Director. "Both the T13 and R5 are packed with the best Compustar has to offer, including improved durability, extended battery life, elegant case design, and enhanced user experience – just to name a few."
The Compustar PRO T13 and PRO R5 will include two 2-way remotes in each kit along with the Drone X1 LTE telematics module for connecting the system to the DroneMobile app. Upon installation, customers can activate a 30-day free Premium trial to DroneMobile for smartphone control, GPS tracking, and family sharing.
Firstech will begin shipping limited quantities of the PRO T13 and R5 in mid-October 2020, with a full release scheduled for early December. These remotes kits will be available exclusively to authorized Compustar Pro retailers. To learn more about Firstech's products and services, please visit http://www.firstechllc.com." - Source