Almost lost your Hyundai smart key? We can help.
There may be times where the mechanical key (inside your fob) gets accidentally released. This normally happens when your key fob is stored in a bag, purse or pocket.
You may encounter this problem if you own a Hyundai with the following 3/4 button smart key fob (remote).
Elantra 2015 and newer

Sonata 2015 and newer

Tucson 2015 and newer

Ioniq 2017 and newer


Flaw? What causes this?
This is due to the design of the key. The mechanical key release button is not recessed --- it sticks out --- hence it takes less effort to be pressed.
Other brands, example Nissan with their popular oval design key fob, or Mazda, sport a recessed slider switch to release the key. You have to dig your finger nail in to engage it.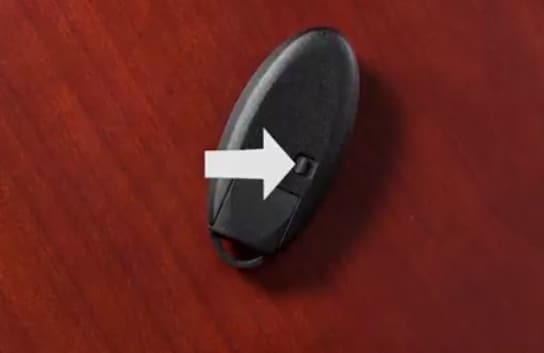 Pic: Nissan/Infiniti Key fob (back)
The good news is, Hyundai fixed this design with their new key fob design for the 2018 and newer Elantra, Santa Fe, Kona etc.


How can I fix this

now

?
Option 1: Key Fob Case (aka cover, skin, jacket)


Style 1: Silicone SKU: HYUS4B version 2
This protective silicone case comes in three colors. Just slide your remote in and presto!
Note: The built-in key loop keeps the mechanical/auxiliary key inside the fob permanently. The fob is inserted from the top. You'll have to remove the entire fob to get the the built in key.
👇

Style 2:

 

Silicone Carbon Fiber


This Silicone Carbon Fiber pattern case offers a simple, stylish, solution to protect your key fob. The built-in key loop secures the auxiliary key to the fob. 
You still have the full function of your buttons. This comes with a keychain. Use the added lobster keychain hook to attach it to your belt loop, for easy carry. This fits the 3/4 button models.

Style 3: Chrome

Our Chrome cases have a sleek design & provide you with a gorgeous case for your car. Choose from 6 bold colors. Just slip the remote key fob into the flexible case and you're set.

These work great and make your key fob fashionable and shiny. Our covers will protect your vehicle remote from weather and normal wear and tear. These also work great as a gift!

BUY NOW
Option 2: DIY
Apply some tape and wrap it around the base of the key fob. This will keep the mechanical key from slipping out your fob.
Questions? We'd love to hear from you.
Leave a comment below, send us an email or use our voicemail/text drop line at
(301) 893-7737.